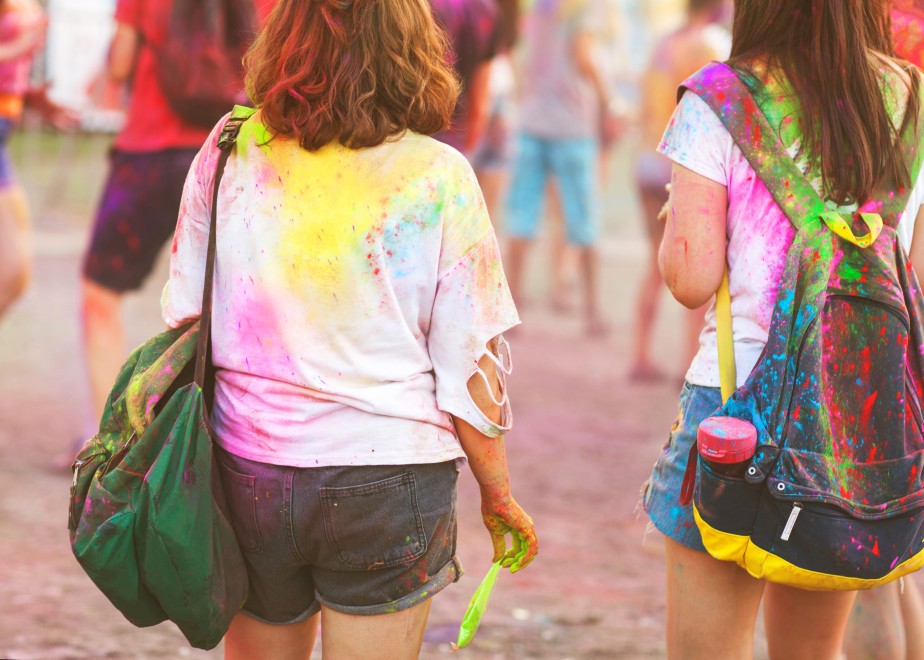 Must-Know Tips before Holi: How to Remove Color from Clothes
Holi is one of the favorite festivals in India. The festival of colors brings joy and exuberance to everyone's lives. Holi is the color of festivals that brings in fortune and happiness. While everybody enjoys Holi, we all are worried afterward as to how to remove color from clothes. Sometimes we discard the clothes we wear. But sometimes we need to clean the clothes. Some colors come off easily after dipping them in water. But there are some stubborn colors that don't leave our skin and clothes.
For skin, we can use oil to remove the color. But what about clothes? Just imagine, you wear your favorite clothes for Holi and some spills a stubborn color on you. You will definitely be worried about it. Isn't it? Poster colors too don't come off that easily. Enjoying Holi and worrying later is not something one must do. So, sit back and read this article as we tell you the tips and tricks of removing stubborn colors from your clothes easily and effectively.
Ways of Removing Stubborn Colors from Clothes
Celebrating Holi, the festival of colors, is a lot of fun. Every bit of the festival is a celebration and enjoyment of the newness that comes into our lives. In such a time of celebration, it is not worth sitting and worrying about our clothes. Here is a step-by-step guide for you to clean your clothes and get rid of the stains of colors. There are some ingredients that you might need. Here it goes!
Vinegar
Detergent Powder
Bowl
Baking Soda
Water
Laundry Detergent
Now let us look at the ways of cleaning the Holi clothes.
Treating Stains
Color stains are stubborn as they don't come off easily with water. Such stains are more prominent than others. You need to tackle these stains quickly as they might ruin your clothes. In order to remove the stain, you need to add two tablespoons of vinegar with one tablespoon of detergent powder and two tablespoons of water. Blend them in a bowl and apply the mixture to the stains. Let the mixture sit on the cloth for 20-30 minutes. Rinse the cloth with water afterward.
Soaking the Cloth
The step mentioned above will pre-treat the stains and will loosen them so that they easily come off. Since the stains are difficult to remove, after pre-treating, you need to clean the garment. Soak the cloth in the bucket of water and add one cup of baking soda to the bucket. Soak your garment in it and leave it for an hour. After one hour, take out the cloth and follow the next step!
Washing
After taking out the cloth from the solution of baking soda and water, the next step is to wash the cloth thoroughly. While a machine wash is effective, hand washing the stains is much better when you need to clean the stain. Hand washing will help in scrubbing the stains, thereby taking out all the stains. Fill half a bucket with warm water and add one cup of vinegar along with a mild and sulfate-free detergent. If you prefer to hand wash the clothes, only a detergent is enough. Soak your stained garment in the bucket of water and scrub on the stained area using a brush. Scrubbing will help in lightening the stains, thereby giving you the close as it was before!
Rinse
Once you take out the garment from the bucket, rinse it thoroughly under tap water. The cold water removes the stains effectively. Wash the clothes until the detergent and other ingredients come out entirely.
Dry
Drying is an essential part of cleaning. After you have washed your colored clothes thoroughly, it is not time to dry them. Air drying is the best way to keep the natural color of your clothes intact. However, direct sunlight should definitely be avoided as it might ruin the clothes. Air-dry the garments so that the stains are removed effectively.
There you go! This was a step-by-step guide regarding how to remove color from clothes. Holi brings in a lot of joy but our clothes need to be cleaned after that. You need not worry about the cleaning of clothes, for they have been taken care of! Use the ways mentioned above to get rid of the stains without damaging and ruining your clothes in any way. Try them now!
FAQs
How to remove Holi stains from clothes?
You can use the guide mentioned above to clean the stains. Otherwise, you can use baking soda and vinegar mixture to get rid of the colors. Just mix the two ingredients in a bowl of water and apply it to the colored area. Wash it afterward under tap water. The colors will readily come off using these methods.
How do you wash clothes after Holi?
There are a variety of ways in which you can clean the clothes. For instance, you can use bleach. But remember bleaching damages the clothes. Another method you can use is lemon juice. Just pour lemon juice on the stain and let the cloth absorb it. Scrub the stained area and you will see that the cloth is visibly clean.
Is vinegar helpful in removing stains?
Yes, vinegar and baking soda are the hero ingredients that are gentle cleansers. They are capable of cleaning each and every stain be it cloth stains, floor stains, furniture stains, etc. To get rid of stains from clothes, just add a cup of distilled white vinegar to a bowl of cold water. Soak the stained area for 15-20 minutes and then wash off with cold water. Repeat the process if the stains remain.
How can I clean my white t-shirt?
Hydrogen peroxide is a great way to clean white clothes. Dissolve oxygen bleach in hot water and add cold water to the mixture. Soak the t-shirt in the solution for 15-30 minutes and rinse it afterward. Further, use 3% of hydrogen peroxide and let it sit for 5-10 minutes. Rinse your t-shirt and remove the stains.